Introdution:
Noi Bai International Airport (IATA: HAN, ICAO:VVNB) (Vietnamese: Sân bay Quốc tế Nội Bài ), the biggest airport in northern Vietnam, serves the capital city Hanoi.The airport is 28 miles (45 km) from the city's downtown. .
The Official name: Noi Bai International Airport).
Capacity: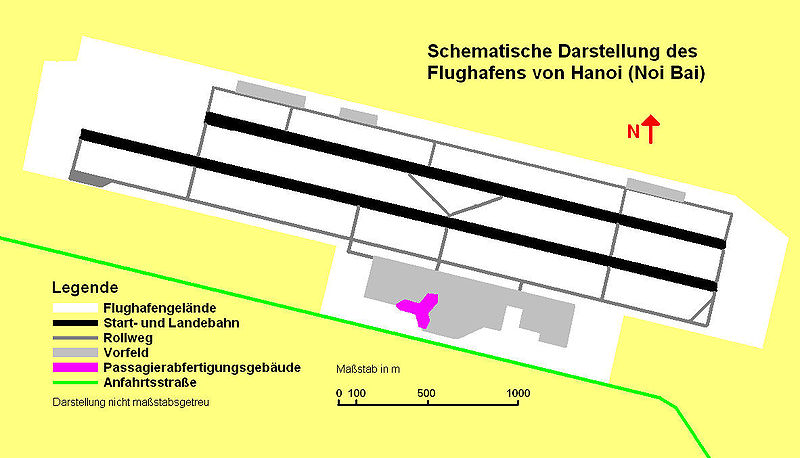 Overview of T1 Station
There are three aircraft parkings ( A1, A2, A3), Area : 165,224 m². T1 Station Area: 90, 000 m².
T2 Station Has been built with area of 90 ha and 4 floors. Expenditure plans are about 31 trilion Yen.
The distance between the two runways at Noi Bai Airport is just 250 meters; therefore, Noi Bai International Airport has a maximum capacity of 10 million passengers a year in accordance with International Civil Aviation Organisation safety regulations. In 2008, it served 8 million Passengers and is going to serve about 20 million in 2025.
As plan to 2010, the T2 station with the capacity of serving 10 million visitors each year in First Stage will go into operation will bring International Airport Noi Bai to reach the capacity of serving 16 million a year. The reserve Airport is International Cat Bi (Hai Phong). Full capacity when the station was upgraded in 2025 will be 50 million visitors each year, which is one of the center airports in Southeast Asia and Asia.
Expected by 2020, the railway "Noi Bai - city center Hanoi city center -Thuong Dinh" of approximately 33.7 km length will be completed, linking Noi Bai airport with new urban area - Dong Anh, the combination administrative combination in Tu Liem, the old town, French-style architecture Streets and Highway 6, to Thượng Đình.
The flight routes and Airports:
As of July 2008, the following destinations are served from Hanoi:
Lobby A:
- China Airlines (Taipei-Taoyuan)
- Dragonair (Hong Kong)
- EVA Air (Taipei-Taoyuan)
- Hong Kong Airlines (Hong Kong)
- Korean Air (Busan, Seoul-Incheon)
- Lao Airlines (Luang Prabang, Vientiane)
- Shanghai Airlines (Shanghai-Pudong)
- Uni Air (Kaohsiung)
- Vladivostok Air (Vladivostok)
Lobby B:
- Aeroflot (Moscow-Sheremetyevo)
- AirAsia (Kuala Lumpur)
- Air France (Bangkok-Suvarnabhumi, Paris-Charles de Gaulle)
- Asiana Airlines (Seoul-Incheon)
- China Southern Airlines (Beijing-Capital, Guangzhou)
- Japan Airlines (Osaka-Kansai, Tokyo-Narita)
- Malaysia Airlines (Kuala Lumpur)
- Singapore Airlines (Singapore)
- Thai AirAsia (Bangkok-Suvarnabhumi)
- Thai Airways International (Bangkok-Suvarnabhumi)
- Tiger Airways (Singapore)
Lobby C:
Vietnam Airlines (Bangkok-Suvarnabhumi, Beijing-Capital, Busan, Guangzhou, Frankfurt, Hong Kong, Kuala Lumpur, Kunming, Melbourne, Moscow-Domodedovo, Luang Prabang, Nagoya-Centrair, Paris-Charles de Gaulle, Seoul-Incheon, Siem Reap, Singapore, Sydney, Taipei-Taoyuan, Vientiane)
Lobby D (Domestic zone):
- Indochina Airlines (Ho Chi Minh City)
- Jetstar Pacific Airlines (Ho Chi Minh City, Da Nang, Nha Trang)
- Vietnam Airlines (Buon Ma Thuot, Can Tho, Da Lat, Da Nang, Dien Bien Phu, Dong Hoi, Ho Chi Minh City, Hue, Nha Trang, Quy Nhon)
Cargo airlines:
- Cathay Pacific Cargo (Hong Kong)
- China Airlines Cargo (Taipei-Taiwan Taoyuan)
- Lufthansa Cargo (Frankfurt)
- Singapore Airlines Cargo (Singapore)
Discontinued flights:
- Cebu Pacific (Manila)
- ČSA (Prague)
- Interflug (Berlin-Schönefeld)
- Nok Air (Bangkok)
For more detail, please contact
Direct Marketing and Airport VIP Service Desks : Tan Son Nhat International Airport HCM City & Danang Airport City.
Marketing Office : 46th Floor, Bitexco Financial Tower,2 Hai Trieu Street, District 1 - HCM City-Vietnam.
HCM City Branch and Guest Entertainment : 799 Nguyen Van Linh Street, Phu My Hung, District 7 - HCM City.
Admin Office: B94, 2nd Floor, Oriental Plaza, 685 Au Co, Tan Phu District, HCM City
Contact Information:
Hotline: +8490.666.8824
Tel: (+84) (028) 6287 6017 - Fax: (+84) (028) 6287 6045
Email: 24h@24hco.com
Website: www.24group.vn - www.24hco.com