Haneda Airport formally known as Tokyo International Airport, is located less than 30 minutes south of central Tokyo, considerably closer to the city center than Narita Airport, Tokyo's other airport. With over 60 million passengers per year overall, Haneda Airport is by far Japan's busiest airport and ranks among the world's five busiest airports.
In 2014, the international terminal was increased in size by 50 percent, and the airport started handling a certain amount of intercontinental flights during the more convenient daytime hours. In addition, the "Royal Park Hotel The Haneda" was opened inside the international terminal building. One part of the hotel is inside the transit zone, allowing transit travelers to overnight without passing immigration.
You also see:
Airport Advetising at Narita Airport
Airport Advertising at Haneda Airport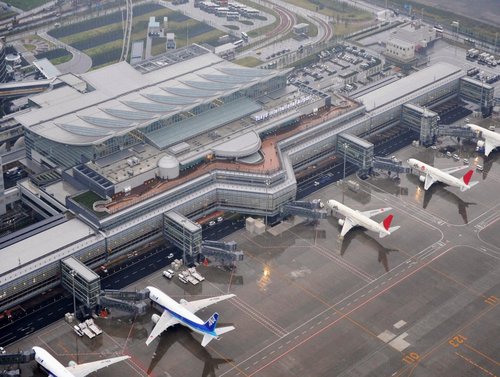 Haneda Airport
In 2015, Haneda welcome more than 75,300,000 passengers include 12,740,000 international customers and 62,520,000 domestic customers
More than 30 air lines have flights at Haneda Airport for example:
AirAsia, Air Canada, Air China , Air France, All Nippon Airways, American Airlines Los Angeles ,Asiana Airlines, British,Cathay Pacific , China Airlines ,China Eastern Airlines,
China Southern Airlines ,Delta Air Lines , Dragonair, Emirates, EVA Air , Garuda, Hainan Airlines, Hawaiian Airlines , HK Express , Japan Airlines, Juneyao Airlines , Korean Air , Lufthansa , MIAT Mongolian Airlines, Okay Airways, Peach , Philippine Airlines, Qantas , Qatar Airways, Shanghai Airlines, Singapore Airlines , Spring Airlines, Thai Airways , Tianjin Airlines, Tigerair , United Airlines, V Air, Vietnam Airlines.
For more detail, please contact
HCM City Sales Office - Viet Nam:
The Prince Building, 17-19-21 Nguyen Van Troi, Phu Nhuan Dist., HCMC, Vietnam
Contact Information:
Tel: (+84) (08) 22152223 Hotline: +8490.666.8824
Email: 24h@24hco.com
Website: www.24hco.com